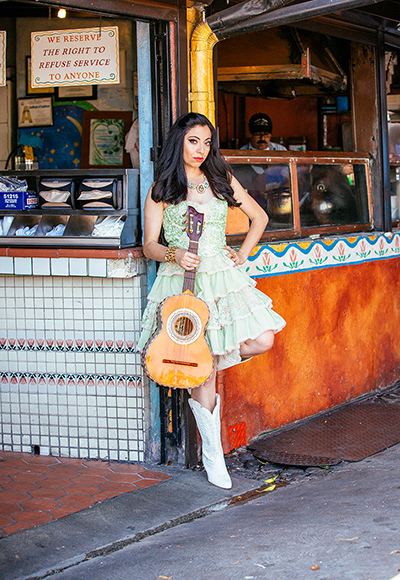 Nancy Sanchez
Nancy Sanchez is a natural musician and artist. She is a studied and award winning Jazz vocalist, but she is also a natural singer songwriter. Born in Toluca Mexico, then making her home in the United States as a young girl, her music is a reflection of two cultures.
Her first release was an independently released, self-titled Jazz EP. Nancy wrote 2 original jazz songs to go along with 5 classics.
Nancy Sanchez would win three Orange County Music Awards taking home honors for Best Latin and Best Jazz.
Looking for a new challenge, Nancy decided to explore her singer songwriter skills in her next project, Ruby in L.A. Nancy's growth as a songwriter and musician took an important step forward working with 3-time Grammy Award winning audio engineer Dave Way.
Nancy's New Album American Novio is Nancy's first predominantly Spanish language record that tells her story of growing up in America immersed in Mexican culture. Along the way you accompany Nancy in her daily journey as she finds poetry in our choices both good and bad in our never ending search for truth and love.
This record adds pop and traditional Mexican musical elements to her singer songwriter style. American Novio features some of the finest musicians in the burgeoning Los Angeles music scene. The one English song features special guest vocalist Marisa Ronstadt, is a love song that dreams of a love that can bring peace to a chaotic world.  There is also a heartwarming special guest appearance by her father on guitarron.
Produced by Eugene Toale (Las Cafeteras, Viento Callejero, Mariachi Manchester, Buyepongo etc..) and Joaquin Pacheco who guest produced 2 songs on this release.